Android is a smartphone operating system developed by Google, based on a Linux customized kernel (Unix-Like) and other open source software. The Operating system is written in Java, C core Android is open source operating system, which means anyone can use it and modify it. Every year Google releases new version of Android, which includes better performance, more features for its users.
Android has been the best-selling and most used operating system worldwide for smart phones, its first version Gingerbread was launched in feburary 9, 2011. Google releases new version and sub updates every year and since 2011 it launched 9 versions. This year 2018, on 6 August Google officially launched its new android version PIE 9.0.
Not all android phones are gettingtheir OS updates, or can be updated on latest android version as Newly releasedandroid OS depends on the hardware and the vendor who releases updates for itsmobiles. Sometimes the hardware installed (the processor or the ram) is notcapable enough to handle new features and sometimes the Mobile companiespurposely not releases update for their existing products, and they launch newmobiles with latest android version as a marketing strategy.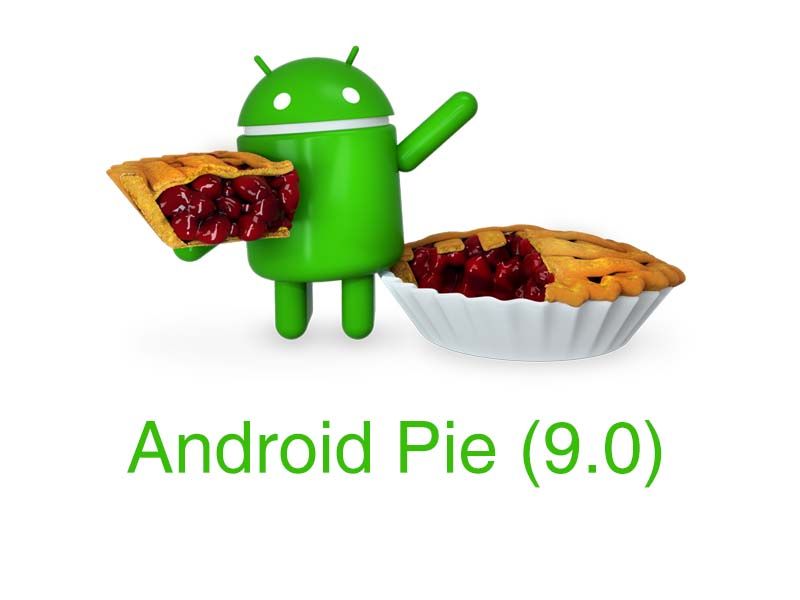 This year 2018 android released PIE 9.0 and it has following enhancements and features
1. Effcient battery performance
With Andorid PIE update, the mobile battery will last longer on a single charge, this can be because of efficient background ground applications handling etc.
2. Adaptive Screen Brightness
Now your mobile screen will adjust brightness automatically and more efficiently, Android PIE auto brightness adjust feature will learns and adjust itself. In bright sunny days you can read contents on your android screen more easily, the screen will adjust brightness, this also reduces battery consumption.
3. App Actions and Notifications
App Actions predicts what you're about to do, so you get to your next task more quickly. If you do something like connect your headphones, the playlist you were listening to earlier is front and center.
4. Slices
Your searches will be handled in an efficient way, so next time when you search anything android will bring suggestions and bring it to top automatically.
5. Intuitive Navigation
Navigation betweens apps gets more easy, no button is required to navigate between apps.
6. Digital Wellbeing
New features that will help in using Android OS apps, and make adjustments.
7. Dashboard
This features tracts users time, which he or she spends of apps.
8. App Times
You can setup time for apps usage, when your set time reaches the notifications will be shown.
9. Wind Down and Donot Disturb
You can schedule your sleep times, or donot disturb time, this makes your screen greyscale mode and your mobile will go in silent
Check all PIE 9.0 features in detail at Android Official Website
Is your smartphone getting Android PIE 9.0 update, below devices are the first one who get updates possibly.
1. Google Pixel
| | |
| --- | --- |
| Google Pixel 2 | Yes (Final version received) |
| Google Pixel 2 XL | Yes (Final version received) |
| Google Pixel | Yes (Final version received) |
| Google Pixel XL | Yes (Final version received) |
| Google Nexus 5 | Yes (planned) |
| Google Nexus 5x | Yes (planned) |
| Google Nexus 6 | Yes (planned) |
| Google Nexus 6P | Yes (planned) |
| Google Nexus 10 | Yes (planned) |
2. Samsung
Samsung Galaxy A5 (2017)
Yes (planned)
Samsung Galaxy A3 (2017)
Yes (planned)
Samsung Galaxy S8
Yes (planned)
Samsung Galaxy S8 Plus
Yes (planned)
Samsung Galaxy Note 8
Yes (planned)
Samsung Galaxy S9
Yes (planned)
Samsung Galaxy S9 Plus
Yes (planned)
Samsung Galaxy A6
Yes
Samsung Galaxy Tab S3
Yes (planned)
Samsung Galaxy S10
Yes will come with 9.0
(Not launched yet)
Sorry No updates for below Samsung Smartphones
| | |
| --- | --- |
| Galaxy S7 | No |
| Galaxy S7 Edge | No |
| Galaxy J5 (2017) | No |
| Galaxy J7 (2017) | No |
| Galaxy Xcover 4 | No |
3. HTC
| | |
| --- | --- |
| HTC U11 | Yes (planned) |
| HTC U11 Life | Yes (planned) |
| HTC One M8 | Yes (planned) |
4. Huawei
| | |
| --- | --- |
| Honor 9 | Probable |
| Honor View 10 | Yes (planned) |
| Honor 8 Lite | Yes (planned) |
| Honor 8 Pro | Yes (planned) |
| Honor 6X | Yes (planned) |
| Honor 7X | Yes (planned) |
| Huawei Mate 10 Lite | Yes (planned) |
| Huawei Mate 10 | Yes (planned) |
| Huawei Mate 10 Pro | Yes (planned) |
| Huawei Nova 2i | Yes (planned) |
| Huawei P8 Lite | Yes (planned) |
| Huawei P10 Lite | Yes (planned) |
| Huawei P10 | Yes (planned) |
| Huawei P20 | Yes (planned) |
| Huawei P20 Pro | Yes (planned) |
| Huawei P20 Lite | Yes (planned) |
5. LG
| | |
| --- | --- |
| LG G6 | Yes (planned) |
| LG V30 | Yes (planned) |
| LG V40 | Yes (planned) |
| LG G5 | Yes (planned) |
6. Motorolla
| | |
| --- | --- |
| Lenovo Moto Z | No |
| Moto Z Play | Yes (panned) |
| Moto G6 | Yes (planned) |
| Moto G6 Plus | Yes (planned) |
| Moto G6 Play | Yes (planned) |
| Moto G5 | No |
| Moto G5 Plus | No |
| Moto G5S | No |
| Moto G5S Plus | No |
| Moto X4 | Yes (planned) |
| Moto Z2 Play | Yes (planned) |
| Moto Z2 Force | Yes (planned) |
| Moto Z3 | Yes (planned) |
| Moto Z3 Play | Yes (planned) |
7. Nokia
Nokia 1
Yes (planned)
Nokia 2
Yes (planned)
Nokia 3
Yes (planned)
Nokia 5
Yes (planned)
Nokia 6
Yes (planned)
Nokia 6X
Yes (planned)
Nokia 6 (2018)
Yes (planned)
Nokia 7
Yes (planned)
Nokia 7 Plus
Yes (beta available)
Nokia 8
Yes (planned)
Nokia 8 Sirocco
Yes (planned)
Nokia 9
Will come with Pie 9.0
(Not launched yet)
8. Xiomi
| | |
| --- | --- |
| Xiaomi Mi 6 | Yes (planned) |
| Xiaomi Mi MIX 2 | Yes (planned) |
| Xiaomi Mi MIX 2S | Yes (beta available) |
| Xiaomi Mi 6X | Yes (planned) |
| Xiaomi Mi 5 | Yes (planned) |
| Xiaomi Redmi Note 3 | Yes (planned) |
9. OnePlus
| | |
| --- | --- |
| OnePlus 5 | Yes (planned) |
| OnePlus 5T | Yes (planned) |
| OnePlus 6 | Yes (beta available) |
10. OPPO
| | |
| --- | --- |
| Oppo R15 Pro | Yes (beta available) |
11. Sony Xperia
| | |
| --- | --- |
| Xperia XZ Premium | Yes (planned for November) |
| Xperia XZ2 | Yes (planned for November) |
| Xperia XZ2 Compact | Yes (planned for November) |
| Xperia XZ2 Premium | Yes (planned for November) |
| Xperia XZ1 | Yes (planned for November) |
| Xperia XZ1 Compact | Yes (planned for November) |
| Xperia XA2 | Yes (planned for early 2019) |
| Xperia XA2 Ultra | Yes (planned for early 2019) |
| Xperia XA2 Plus | Yes (planned for early 2019) |
| Xperia XZ3 | Yes (Final version received) |
12. Vivo
| | |
| --- | --- |
| Vivo X21 | Yes (beta available) |
| Vivo X21UD | Yes (beta available) |